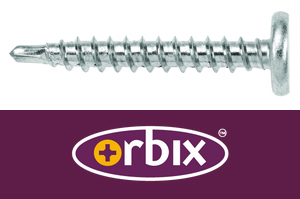 Electricians can face many different tasks, using many different materials, in single day. As a result, a well-designed, multi-purpose screw can provide a massive boost to speed and efficiency. The Orbix general purpose screw has been designed specifically for electricians, so whether you are fixing support brackets, electrical accessories, trunking, etc. these self-drilling and self-tapping screws will ensure you are always prepared and ready with a suitable and versatile fastener.
The general purpose fastener has a number of key features that make it an indispensable part of any electrician's toolkit; for starters, the self-drilling and self-tapping ability of these fasteners means no more messy, time consuming pre-drilling. Instead, these fasteners can fix PVC and very thin steel (up to 1.5mm) to wood with minimal preparation. The high quality, extra sharp points provide maximum drivability, so fixing to wood becomes a breeze – while the low profile No. 2 pozi heads provide a clean, sleek finish with absolutely no snagging.
Every screw and accessory in the Orbix range has been specifically designed with electricians in mind – both the design and manufacture of these screws is informed by the practical requirements of the trade. Each particular design feature provides significant improvements in speed and efficiency, especially with larger projects which may include installations with repeated tasks. This repetition within large projects can be vastly improved by using innovative design features to reduce wasteful actions, which over time can accumulate to many wasted hours.
One such time saving feature is the flat underside design of the screw head – this small change enables general purpose screws to have a large contact surface area, but without the need for an additional washer. This allows the fiddly additional step of separately applying a washer to each screw to simply be eliminated from the installation process, while still protecting the attaching accessory from being damaged by the screw head. The twin thread feature also speeds up tasks by allowing screws to drive straight into the wood and connecting material quickly, but without requiring great force or any pre-drilling preparation.
Orbix general purpose fasteners are the ideal all-rounder for both commercial and domestic use thanks to their innovative and practical design. They come in 25mm and 35mm length and are available in small packs of 200, all the way up to industrial sized trade packs. For further information on general purpose screws, or to view the entire range of self drilling metal screws and accessories, please see the Orbix range of electrical screws.