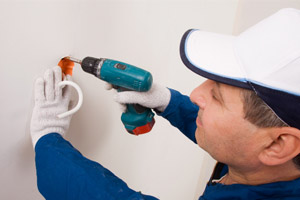 All electricians will appreciate any product that can cut out the tedious snagging when running metre upon metre of cable – especially on industrial scale jobs, where these issues can add up to plenty of wasted time un-hooking and re-running cable.
Orbix screws for metal are designed to meet every electrician's specific requirements; we understand the importance of speed and efficiency and this is reflected in the bespoke design of our screws. Our self-drilling screws and self-tapping fasteners ensure speedy installations, by avoiding the need for fiddly washers as the flat underside provides a large surface area. The topside of the screw also has a flat finish to avoid any obstruction or snagging whilst cable is being run. Our self-drilling and self-tapping screws save valuable time by performing with maximum efficiency and minimising costly preparation time.
Whether for domestic, commercial or industrial purposes, time is of the essence, and that is why our Orbix screws for metal range eliminate the need for separate tapping and drilling operations. The Orbix screws come in both self-tapping and self-drilling designs – so you can find the right screw for the task in hand. The self-drilling point and self-tapping thread ensure firm and consistent fixings every time – and additionally can be un-fastened and re-used when necessary. The application of Orbix screws for metal are designed specifically with electricians in mind; not only do our screws eliminate the need for nuts, bolts and washers, they also only require one drive bit, since our range have a standard PZ2 recess.
Orbix self-drilling and self-tapping screws for metal are heavy duty, ensuring that even steel up to 2.5mm presents no problem for this innovatively designed screw range. Whether joining cable trays, mounting din rail and accessories in control panels or faster fixings of earth tags to galvanised trunks, Orbix screws will provide strong, durable fasteners that can be applied with minimum tools or fixings. However not only do these screws avoid the cost of washers, nuts and bolts, they also eliminate the need for expensive tools such as drills, taps and expensive tooling costs.
The self-drilling and self-tapping design simplifies many time consuming processes electricians face day in and day out. Take a look at the Orbix range of screws and fasteners to see how much time and money you could be saving.